Congratulations to "Kate I.", the winner in Olivia's giveaway. Thank you to all who participated!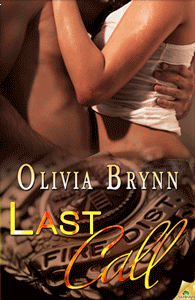 Hey there, JCR readers! My name is Olivia Brynn, sometimes writing as Alanna Coca. I write contemporary novels and novellas. I'm here to talk about my short contemporary erotic romance, Last Call:
When Eric Layton lunges for his ringing cell phone in the middle of the night, he's halfway to the door before he realizes it's not his chief summoning him to an out-of-control fire. It's an out-of-control woman who's too tipsy to figure out she's dialed the wrong number. But the line goes dead before he can explain he's not her brother. His conscience won't let him leave the woman to wait for a ride that's never going to come. Yet nothing prepares him for the chemistry when he helps Joanne into his truck. She's curvy, blonde, and vulnerable—a three-alarm warning to do the right thing and keep her at arm's length. Still keeping watch over her through the night sounds reasonable. Until she awakens, and desire burns reason to a crisp…
Warning: Contains explicit sex scenes that may be too hot for summer reading. Author recommends you check to make sure your air-conditioning is in working order and turned up full blast.
The heroine, Joanne has had a bad day. A very bad day. Can't blame her for wanting to let loose a bit, right?Here's a very short snippet of Joanne's phone call with who she thinks is her brother:
"Helloooo," the voice sang. "Your voice is weird. I guess I woke you up huh?"
"Who is this?"
"Thiss iss your sisser…" More musical words. "'Member how you said that what I needed was to get good and drunk? Well guess whaa-haat?"
Oh Jesus. A drunk. He didn't recognize the woman's voice, so his first impulse was to snap his phone shut. On the other hand, if it turned out to be someone he knew, he'd feel like shit for hanging up.
"Shh," she whispered. "Don't tell Mom. I got a drunk on."
He smiled, adrenaline slowing since he knew he wouldn't have to run into a burning building. "I won't tell."
"How come you sound funny? Did you get a drunk on too? Oh, my phone is blink-eting. Did you hear that? Was that your phone? Kevin, I'm drink. Drunk. Keeev-in! I'm drunk. I gotta tell you something too. I went to the Ranger for drinks, and you said not to go by myself, and I did anyway because I'm bad! I'm bad, Kevin. I'm a bad girl. Oh! You should see what I got…the bar had pens. For free! I got a blue one and a pink one and a…hey…" He heard rustling, and he imagined her digging through a purse. "Hey! Someone stole my yellow one! Kevin, someone stole my yellow pen!"
"It's okay." Eric tried not to laugh. "We'll get you another yellow—"
"Yeah but that's not right, taking someone's pen like that. I was drinking my—hey, did you know they have a drink called a slippery nipple? It's yummy." The music in the background switched from country and western to a news report and to rock and roll before settling on hip-hop; then the volume increased, and she started singing along.
Sort of. She didn't seem to know the words, and Eric couldn't get one in edgewise.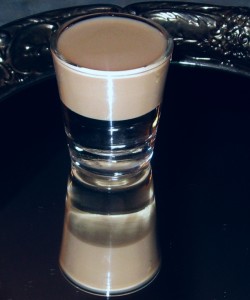 Find LAST CALL at AMAZON, Barnes & Noble, Apple, and the publisher SAMHAIN. More information and Chapter One can be found at my WEBSITE.
Okay, I've tried my share of mixed drinks, but the Slippery Nipple is pretty good, so I thought I'd share the recipe here in case you've got a hankering: The most common version of the drink consists of:
1/2 shot of Sambuca
1/2 shot of Baileys Irish Creme Liqueur
Pour Sambuca in the shot glass, then carefully and slowly pour the Baileys down the side of the glass so that the two liquids do not mix and the Baileys floats atop the Sambuca. It takes a knack to do this. The Baileys can also be poured over an upside-down spoon to get it to float. Another version is to also known as "Buttery Nipple" which I prefer. Some bartenders consider this the slippery nipple, as Sambuca is a bit of an acquired taste. Just substitute butterscotch schnapps for Samuca. The distinctive layers of this drink make it fun. Some like to add a cherry or grenadine syrup at the bottom to give the nipple some color.
What do you guys think? Ever tried a slippery nipple?
Giveaway:
What's your favorite mixed drink?

It doesn't have to have alcohol in it… I'll be giving away a copy of my book Last Call to one random commenter. If you'd like a signed cover flat, I'd love to send you one, just email me your name and mailing address to olivia@oliviabrynn.com
Giveaway ends 11:59pm EST May 7th. Please supply your email in the post. You may use spaces or full text for security. (ex. jsmith at gmail dot com) If you do not wish to supply your email, or have trouble posting, please email maureen@JustContemporaryRomance.com with a subject title of JCR GIVEAWAY to be entered in the current giveaway.