Giveaway Alert!
One morning, about three years ago we woke to the sound of my four-year old son screaming that he couldn't walk. I ran into his room and saw him lying in bed, soaked with tears and sweat, his blue eyes glossy with fever. I tried to reassure him while not giving into my own rising panic. I tried to get him to stand, but his legs just went limp and he screamed in pain. We were out the door minutes later en route to the Emergency room in our town's hospital. I carried him into the ER that day not knowing what to expect. And in that way all parents do, reassured him that everything would be fine, even though I wasn't quite sure. Thankfully the waiting room was almost empty that day so I knew the wait wouldn't be too long. But my son wasn't feeling great and started crying that he wanted to go home. As I held him on my lap, offering to buy him whatever treat he wanted (at this point I would have let him have any 'junk' food that would have normally been not allowed) a maintenance worker made eye contact and came over to us. My son stopped crying after a few minutes and soon it was decided between the two of them that a game of TIC-TAC-TOE (also known as X's and O's) was in order. They both looked to me for paper and a pen. So I searched in my 'mom' purse, praying I had something besides half-eaten cookies, baby wipes, and empty baby bottles in there. Thankfully I managed to find a mangled old receipt and a crusty pen. This man engaged my son and made him forget we were even at a hospital.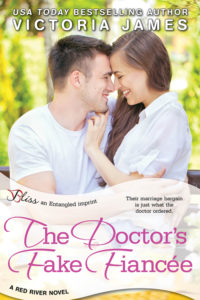 Shortly after we were called in. The doctor that met us immediately put us at ease. She examined my son and said that she was pretty certain the not being able to walk was a complication from the virus and would resolve itself in a few days. But she did order some blood work, just in case. While we waited for the results, she said we could walk around the hospital. She provided DS with a wheelchair (and while I tried not to get teary-eyed) DS thought it was the coolest thing ever, and immediately began directing traffic. We walked around the lobby of the hospital and not long after, a nurse came and found us. She said his blood work had come back. She hadn't wanted to page me in case I would panic, so came personally to find me (Moi? Panic?). Now, being the paranoid person I am, coupled with writer's imagination, thought up every single worst case scenario possible in that short walk back to the ER. We were greeted by a visiting pediatrics specialist and a medical resident from a world-renowned children's hospital in nearby Toronto. Our doctor thought he would be an even better choice to evaluate. But he concluded the same as the previous doctor and we were released. He did tell us to come back if DS's fever came back or the symptoms became worse.
Two days later things did become worse and we were back at the hospital at ten o'clock at night. This time the emergency room was packed And our eight-month old baby was in tow. But our maintenance 'friend' was working again and came over to us. After many games of TIC-TAC-TOE we were finally called in. The inside of the ER was filled with bustling staff and tons of sick people. We were led into a small room, DS's temperature was taken and then we were left to wait for over an hour for the doctor to arrive. During that time we learned that there was only one ER doctor on duty that night. We heard him go from one room to another and then finally it was our turn. He gave us a brief smile before asking DH and I for a rundown of the symptoms. While we spoke he flipped through DS's chart and then examined him. He ordered a bunch of tests and said he was concerned that DS still wasn't really showing signs of recovering. Then he said to sit tight, and that it would be a long night at the hospital. He disappeared back into the throng of patients waiting for him. DH called his parents to come and get DD and bring her home. As the night went on DS had X-RAYS and blood work and we waited while he slept on a bed in the hallway of the ER. In the middle of the night, police came into the ER with some unruly people. And well, since there was nothing else to do but nonchalantly turn our heads down the hall and look, we saw 'our' doctor being yelled at by some inebriated patients. He tried to calm them down, and after several attempts was successful. As DH and I sat there, with DS sleeping in a hospital bed, we were struck by the chaos of the scene around us. Patients were grumpy and complaining to nurses for all sorts of reasons-and they were all caringly attended to.
I know we've all had our share of horrible hospital stories, but this one night reminded me of how 'human' the staff is at the hospital. Just like us. As that doctor whizzed around and was chastised by someone else for the 'waiting time' I felt empathy for the doctor. I mean, the entire place was packed and he was the only one on duty. It wasn't his fault. They were short-staffed and there was nothing he could do about it. I also knew as I sat there, that this was not a job I could ever do. There he was, young (with a wedding band on), it was the middle of the night and he was dealing with life and death situations while being yelled at. At some point during the night I overheard him asking a nurse to bring the 'young parents' a blanket (bless the man for calling us young). As the morning hours approached and DH and I took turns sleeping, the young doctor came and found us. DS's fever had broken, the blood work came back normal and we were discharged. It was nothing more than just a complication from a nasty virus. The next day he was walking again.
Once things returned to normal, I couldn't help but think back to that scary week. And the amazing people who helped us. I know sometimes it seems so easy to blame doctors and nurses, but what became so clear to me that long night in the ER was that these doctors, nurses, and staff are just 'normal' people. They are out there, working long hours, hard hours, to help people. I don't recall hearing many 'thank you's' that night. You couldn't pay me enough money to do what they have to do every day. I wouldn't be able to deal with the level of stress, grief, sadness, uncertainty, and anger that they have to face from patients. I did find myself thinking about the ER doctor that helped us that night. I wondered about his life outside the hospital, his wife, his family-NO, I'm not a stalker, just a writer. :)
In my new release, The Doctor's Fake Fiancée, my hero, Evan Manning is a renowned surgeon. He is an overachiever, at the top of his profession, everything is suddenly and permanently taken away from him when he risks his life to save a woman and her son. After sustaining many injuries, his previous profession isn't an option for him anymore and he has to decide how he can find fulfilment in life. He decides to move home to his small town, to mend fences with his older brothers and form a relationship with his family again. And in typical sibling fashion, no one really cares that he's a doctor. No special treatment for him…but once he gets to know Grace and her son, Christopher, he realizes there is more to life than just being the best. And this time, it's Grace who does the saving…
So what about you? Do you share my awe for those men and women in the medical profession who go out there every day and try to help? Do you think it's a job you could do? Do you classify them as heroes?
Giveaway:
1 Digital copy of my first two Red River Series books (A Risk Worth Taking and The Best Man's Baby).
Excerpt:
"I've rescued you," she whispered, reminding him of
why he was in here. "Now I need to, um, get some clothes
on."
Rescued? She'd just thrown him into a volcano of hot
lava. She tried to move around him, but that movement only
brought her closer, until they were plastered against each
other.
Heavy footsteps only faintly registered as the feel of
Grace's curvy body against his took over.
"I dropped my shirt," she hissed and then attempted to
kneel down…as Mrs. Jacobs whipped open the door and
screamed in their faces.
"Evan Manning, these sexy-time shenanigans may be
acceptable in the city, but not in Red River. I know all about
what people do in change rooms but not in my sister's shop.
Not with an innocent little boy—"
"There are no"—he almost gagged—"sexy-time
shenanigans going on here. It was an honest mistake," he
said as he held his hand out for Grace and helped her stand.
"Mrs. Jacobs, he was just helping—"
"My dear, you are in a changing room with a man, and
down on your knees. You can't be so naive in life. I know all
the Manning boys, and Evan was my favorite up until this
sordid escapade—"
Evan forced himself to sound calm as he stepped out
of the dressing room to spare Grace more humiliation.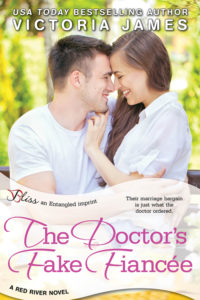 Their marriage bargain is just what the doctor ordered…
Former surgeon and self-professed life-long bachelor Evan Manning has one thing on his mind—to reclaim the career that a car accident stole from him. But when he's forced to return to his hometown of Red River, Evan comes face-to-face with the gorgeous woman who's haunted his dreams for the last year—the woman he rescued from the burning car that injured his hand. Now Evan needs her help. In a month, he'll have the job opportunity of a lifetime...he just needs a wife to get it.
Artist Grace Matheson is down on her luck again…until she walks into Evan Manning's office. When her sexy former hero hears that she needs work, he offers her a job and a home—if she'll pretend she's his fiancée. Grace knows she shouldn't fall for him. Once the month is up, Evan will be back to his old life. But the more time they spend together, the more real their feelings become—and the more likely heartbreak is.
Giveaway ends 11:59pm EST Oct. 27th. Please supply your email in the post. You may use spaces or full text for security. (ex. jsmith at gmail dot com) If you do not wish to supply your email, or have trouble posting, please email maureen@JustContemporaryRomance.com with a subject title of JCR GIVEAWAY to be entered in the current giveaway.