Growing up, I had a secret fantasy. Okay, maybe not so secret since I played the same scenario constantly, often roping my cousin into pretending with me, but it went something like this…
New Kids on the Block (yup, you read that right) show up at my front door, their tour bus having miraculously broken down in our neighborhood. My eight-year-old self comes in from strutting out by the pool, clad in a snazzy purple one-piece, and Jordan Knight—aka the object of my adolescent obsession—takes one look at my jailbait self and falls instantly in love.
The fantasy pretty much faded to black at that point, but you get the gist.
Sadly, that particular fantasy never came to fruition. But it did inspire my latest release.
ACCIDENTALLY MARRIED ON PURPOSE is a fun romp of a romantic comedy where Sherry Robicheaux, a wild child southern chica addicted to adventure and love, relinquishes hope of ever finding that elusive HEA. Tyler Blue, a world famous country music superstar, suddenly finds his love-song writing credibility called into question due to his eternal bachelor status. The two meet during a weekend to Vegas and their attraction is unmistakable. Tyler's identity? Not so much. Regardless, they soon realize they each want the same thing—one stolen weekend.
Well, given the title of the book, I'm sure you can guess how that plan turns out.
Writing this story got me thinking. Now that I'm older, and moderately wiser, what celebrities would I fantasize about breaking down outside my house now…you know, overlooking the fact that I'm a happily married mama of two.
These ponderings have led to the following list of epicness:
Rachel's Top 5 Celebrities She Wouldn't Hate Being Hitched to
(*grin*)
1.

Channing Tatum – Okay, I'm not sure this needs to be expanded upon. Anyone who's watched this guy move in Magic Mike is nodding right along with me. Channing is hot, he can dance, and he has a fabulous sense of humor. That checks all three of my boxes right there. What puts it over the top, however, is his obvious love for his wife. I realize this puts a damper on the whole 'us getting hitched' thing, but it makes my heart happy to see nonetheless.
2.

Adam Levine – Gorgeous, talented, and a smile that does crazy things to my tummy. A great smile is one of my biggest turn-ons and Adam has that in spades. He's also kind and funny with the contestants on the Voice. So let's see: a man not afraid to be silly, who can write me a love song, and then turn around and sing the crap out of it. Yes, please!
3.

Ryan Gosling – I realize I'm probably dating myself here (as if my NKOTB reference didn't do that already), but I remember when this guy was on the Mickey Mouse Club. He was adorable even back then, and that was before he played Young Hercules. But what sealed the deal were his adult roles. I alternated swooning and crying while watching The Notebook, and when Ryan showed off his Dirty Dancing skills (not to mention abs) in Crazy, Stupid, Love…sigh. Seriously, I don't really need to say more, do I?
4.

Sam Heughan – I am ridiculously excited about Outlander. Have you seen the video of Sam showing us how to say Sassenach?? Be still my heart, y'all. Cuties with accents do me in every single time, and the fact that he's playing Jamie, one of my all-time favorite heroes, doesn't hurt, either. :)
5.

Henry Cavill – I've had a thing for Henry ever since his role on the Tudors. Then Hollywood just had to go and make him the man of steel, able to sweep me off my feet (literally) and save me from mortal danger. Tall, dark, and handsome, gorgeous eyes and a great smile—and don't get me started on his chin! Yep, you wouldn't be hearing any complaints if I woke up accidentally married to this guy.
What say YOU? What celebrity hotties would you enjoy waking up hitched to…and did any of them make my list? Let us know in the comments!
ACCIDENTALLY MARRIED ON PURPOSE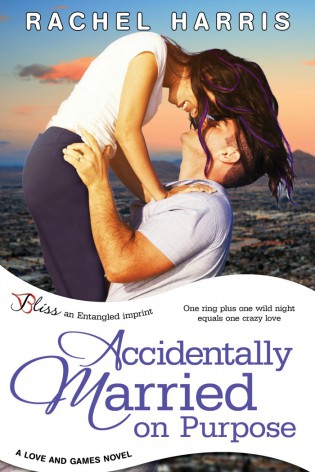 One ring plus one wild night equals one crazy love
Sherry Robicheaux loves men. She loves love. And she loves an adventure. So when she meets a mysterious man while working backstage at a country music concert in Vegas, she's all about what's happened in Vegas staying there.
Country music superstar Tyler Blue just wants a weekend of anonymity…though there's something about the spunky waitress with the streaks of purple hair that tempts him like no other. Until the next morning, when they both wake up with fuzzy memories…and rings on their fingers.
Convincing Sherry to maintain the ruse for his public image isn't the hardest part—it's reminding himself that their time spent playing husband and wife in her small town of Magnolia Springs can't last. Tyler's first love will always be music—and the road is no place for a sweet downhome girl.