With: Magda Alexander
Congratulations to "Anita H." the winner in Magda's giveaway for the 26-27th. Thank you to all who participated!
First of all, I want to thank Maureen for inviting me to her blog. Here's the blurb for STORM DAMAGES, my debut novel and a sizzling contemporary romance:
Promising law student Elizabeth Watson struggled throughout her entire life to claw out of her dirt poor background. And now the brass ring is within her grasp—an associate position at the law firm where she works. As long as she keeps up her grades, makes law review, and stays out of trouble. But trouble is just what walks in the door one scorching hot summer day.
When Gabriel Storm walks into Elizabeth's life she wants nothing to do with him. After all, he's on the opposing side of a business deal her law firm represents. If she's seen with him, she can kiss her career goodbye. But after one sizzling encounter in his limo, she can't stay away from the billionaire who put the "B" in bad boy, and soon she's embroiled in an affair hot enough to incinerate her doubts. She should walk away, hell, she should run away, but she can't. Because all she cares about is his kiss, his touch, and the fires he lights when she's in his arms.
Excerpt:
An urgent heat flares in Gabriel Storm's eyes. "Are you attached, Elizabeth?" he asks in a gravelly voice, barely loud enough for me to hear.
My legs turn to rubber. My breath hitches. "Attached?"
His thumb scrapes the inside of my wrist, setting off a wild pulse within. "Do you have a partner, a significant other, a boyfriend?"
"No." I blurt out before I can think about the appropriateness of his question. Or my response.
"Good." The hold on my wrist relaxes. It's only then I realize how tense he'd been. As if my answer mattered to him. "Are you free tonight?"
What the—? Yeah, we shared a moment in the elevator and when I entered the conference room. But he's on the opposing side of a half billion dollar deal. I can't go out with him.
Not wishing to appear rude, though, I sidestep the question. "Chances are I'll be working late."
"Surely Carrey won't keep you. He'll want you to be fresh tomorrow morning for the negotiations. Meet me for drinks at my hotel. I'm staying at The Four Seasons. Around seven?"
I try to say something. But stunned by the turn of events, I can't.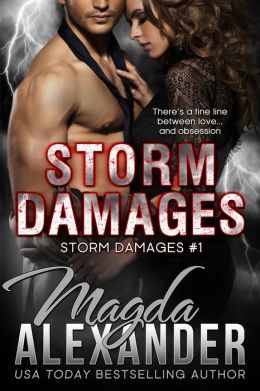 He palms a card from his jacket. "My mobile number. Call me when you leave the office so I know when to expect you." He strokes the card against my cheek.
His touch sets off something within, a trembling I can't control.
As he slips the card into my hand, his eyes turn the color of a savage storm. "You're very responsive, Elizabeth. I like that." And with that, he strolls away, all liquid movement and languid grace.
What the hell just happened? I didn't say yes. You didn't say no. Elizabeth. His panty-melting voice whispers inside my head.
STORM DAMAGES is now available at Amazon, Barnes & Noble, iBooks and Kobo
About Magda Alexander:
Magda loves piña coladas and walks in the rain. Okay, enough of that. Rewind.
Magda loves reading steamy romances which she's been doing since she was ten. Ummm, that's not quite true. Steamy romances did not exist when she was ten, and if they had, she's pretty sure her mother would not have allowed her to read them. She did read the hand-holding, longing- glances kind, along with her catechism, which got her into trouble more than once. Let's just say, Mother Superior was not amused.
As soon as sexy romances came into existence, she's been lapping them up. So when it came time to write one, guess what she wrote. A no-brainer, right?
Magda, a lifelong learner, attended the University of Maryland where she majored in Business Administration (because her family had to eat) and minored in English (because she needed to dream). She's lived in Maryland most of her life and now resides close to the Catoctin Mountains in a city whose history dates back to colonial times.
If you wish to find out more about Magda, please check out the links below:
Visit Magda Alexander website at: http://magdaalexander.com
Follow Magda on Twitter at: http://www.twitter.com/magdaalexander
Like Magda on Facebook at: https://www.facebook.com/MagdaAlexanderRomanceAuthor
Giveaway:
One lucky winner will win a $10 gift card to her favorite etailer plus a copy of STORM RAVAGED and STORM REDEMPTION, the other two books in the STORM DAMAGES trilogy.
Giveaway ends 11:59pm EST July 27th. Please supply your email in the post. You may use spaces or full text for security. (ex. jsmith at gmail dot com) If you do not wish to supply your email, or have trouble posting, please email maureen@JustContemporaryRomance.com with a subject title of JCR GIVEAWAY to be entered in the current giveaway.