Congratulations to "Jonetta", the winner in Roxanne's giveaway. Thank you to all who participated!
Over the past twenty five years, our family has been home to six cats, four dogs, five birds, several hamsters, and fish too numerous to count. We've also fostered several kittens and the cutest little Tasmanian devil of a Pomeranian puppy, too. There was a point during which we had five cats and three dogs at the same time and I discovered that even I have a leg-limit!
We're big supporters of our local animal shelter and many of our pets were homeless before they came to us. In fact, our dog Molly, who passed away many years ago, was a retired racing greyhound, who we found through a greyhound rescue organization. A lovely, sweet-tempered creature, Molly opened our eyes to the particular joys and challenges of kennel-raised dogs, bred and trained for a single purpose. http://www.greyhoundpets.org/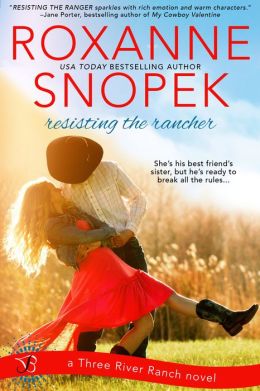 In my latest release, RESISTING THE RANCHER, my heroine Celia Granger is unable to turn away from any animal in need. Fortunately, as a veterinarian, she's got the tools to save them. She and Jonah Clarke, the hero of my story and Celia's childhood crush, get reacquainted over an injured dog Jonah finds in the alley behind his law office. Could you resist a guy willing to ruin his suit by helping a filthy dog lying in a trash heap? I couldn't. (My own guy is a lot like Jonah, as it happens!) Celia couldn't either!
I hope you enjoy Jonah and Celia's story.
Amazon | Barnes and Noble | Entangled Publishing
Giveaway:
So, tell me: Have you ever lost your heart to a needy animal? Have you ever watched a strong man's heart melt for love in a fur coat? I'd love to hear YOUR stories! All comments will be entered to win one e-book of the winner's choice from the Three River Ranch series.
Giveaway ends 11:59pm EST April 16th. Please supply your email in the post. You may use spaces or full text for security. (ex. jsmith at gmail dot com) If you do not wish to supply your email, or have trouble posting, please email maureen@JustContemporaryRomance.com with a subject title of JCR GIVEAWAY to be entered in the current giveaway.