Congratulations to "Marcy S." the winner in Rosemary's giveaway. Thank you to all who participated!
When I sat down to write my first contemporary romance—and a novella at that—I went to the only logical place for help, that patron saint of the Romance Novel, Jane Austen herself. I love modernized takes on classic novels. The problem was finding the right novel to inspire me.
It couldn't be Pride and Prejudice, obviously, because that has been done to death—literally, if you count the one with zombies. Then there's my other favorite, Emma, but there will never be another modernization that will equal Clueless, so why bother. Northanger Abbey was too gothic, but Persuasion….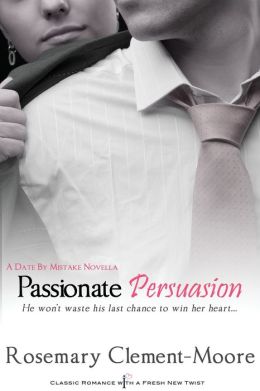 Well, my novella's title—Passionate Persuasion—gives that away. The story of past lovers who meet again when the circumstances that tore them apart have changed is considered Austen's most mature work, and that was a good omen for my leap from the YA shelves to contemporary romance.
Eight years ago, Alex Drake broke Kiara Fredericks' heart. Now here he was, walking into the Regis Pub like he owned it.
The pub, not her heart.
Though there was that, too. She hadn't realized he still had a lien on even a small bit of cardiac real estate until she saw him across the crowded bar and felt the peculiar, particular pinch and twist under her left collarbone, the specter of young love rattling the chains of her heart.
If there was a modern adaptation already, I didn't know about it. But just in case, I added another twist: I flipped the genders. Instead of Anne Elliot having thrown over Captain Frederick Wentworth, I had Alex Elliot Drake pulling out the stops to win back the girl he let get away in college.
Then I discovered why there was no modern adaptation. The pressures that keep Anne and Captain Wentworth apart in Austen's novel are very real for her time: social rank, fortune and inheritance, the restrictions of etiquette… Anne can't just walk up to Wentworth and tell him she was an idiot and she still loves him. Wentworth, having committed his attentions to one young lady, can't just dump her when he figures out she's kind of a twit. These aren't contemporary concepts.
Except they are, before we know better. How about college, when we're a little too easily persuaded to do things because of what our friends will think. Putting Alex and Kiara's backstory in the social minefield of their fraternity/sorority days was either a brilliant idea or an attempt to get some used out of this Sigma Chi shaped scar on my heart.
When they meet in the present, Alex and Kiara can make all new mistakes with each other. That's something any one from any time can relate to. When our hearts get in the way of our heads, there's no telling what flawed idea will seem genius at the time.
In the end Jane Austen's Persuasion was more inspiration than source material for a quick, funny, romantic read. (At least, that's what I was going for.) It's a truth universally acknowledged that sometimes you have to laugh at the things we do in the name of love.
Passionate Persuasion Buy Links:
Amazon
Barnes and Noble
Giveaway:
If you want to see how the inspiration/adaptation turned out, I'm giving away an electronic copy of the novella Passionate Persuasion from the ebook retailer of your choice. Comment below to win!
Giveaway ends 11:59pm EST March 15th. Please supply your email in the post. You may use spaces or full text for security. (ex. jsmith at gmail dot com) If you do not wish to supply your email, or have trouble posting, please email maureen@JustContemporaryRomance.com with a subject title of JCR GIVEAWAY to be entered in the current giveaway.