By: Susan Meier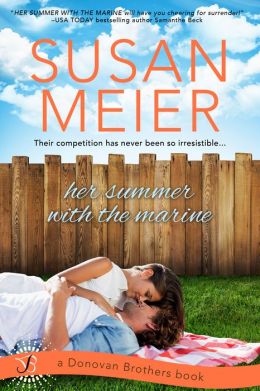 On release day for HER SUMMER WITH THE MARINE, I got into a discussion with some readers who didn't really believe Finn and Ellie were enemies. One reader said, "They're more like frenemies."
And I laughed. It's very true. In public they were always fighting. Privately, because they both had odd lives, they confided in each other. Maybe misery really does love company. :)
Small towns, I think, are the perfect breeding ground for this kind of relationship. Sadly, as a child, Finn had been hiding a secret. Ellie was just hiding. Her mom had been killed in an automobile accident leaving town with her lover. The news was so shocking in the tiny town of Harmony Hills that it seemed Ellie couldn't go anywhere after her mom's death without someone pointing and whispering.
As a result, they both developed the attitude that since they couldn't change anything, they would laugh at their troubles. Add a wacky assistant into Ellie's life, a job she doesn't want, a job she does want but has to squeeze into her schedule, and a hot, tempting attraction to Finn, and she's about crazy half the book.
But underneath it all, Finn grounds her, and she listens to Finn, gives him good advice when there's no one else he can confide in. When they become lovers, it definitely has the feeling of destiny to it!
So, yes. I think Monday's readers hit the nail on the head. Finn and Ellie weren't really enemies as much as frenemies. But it's also not an easy road for these two as they work to settle the very real differences that hold them back from each other.
This was probably one of the most fun books I've ever written. Not just because Finn and Ellie really do laugh a lot (and torment each other a lot) but because I could really let my imagination loose!
So…Readers…Have you ever had anyone in your life who drove you crazy, maybe competed with you, who actually ended up being one of your best friends?
HER SUMMER WITH THE MARINE
**99 cents for limited time only**
Their competition has never been so irresistible
The last person Ellie McDermott wanted to run into after returning to her hometown is Finn Donovan, her high school nemesis and the guy she crossed the line from enemies to lovers with one night years ago. Now ex-military, tattooed, and still sexy as hell, Finn is a complication Ellie doesn't need—she needs to concentrate on saving her family business.
Finn's entire life, Ellie was there, going head-to-head with him in every class, bee, and test. So it's no surprise she'd show up just as he was about to take over her father's struggling business. It is a surprise, though, that his attraction to her is even more explosive than it had been. Acting on their attraction is one thing, but Finn has to turn a profit to save his own family, and nothing—not even love—will get in his way.
Buy Links: