When a former editor asked me to try writing a sexy contemporary romance series, I struggled to come up with an idea I could follow through on without getting bored. But I took a note from Hollywood's playbook and decided to update a classic.
I've always loved the musical, Seven Brides for Seven Brothers, so it wasn't hard for me to imagine what life would be like for Adam and his brothers in the 21st century. Using the basic idea of seven brothers looking for wives, I took the liberty of updating a few details (like switching Ethan for Ephraim and changing the last name of the brothers to Kelly) and fleshed out seven very different men. Some of the brothers were easier than others. Adam, the eldest, slipped into the same role of running the family business and looking out for his younger brothers. Frank, with his hair-trigger temper, was the perfect candidate for an aggressive linebacker. And Gideon, being the baby of the bunch, was ideal material for a Hollywood leading man.


I struggled more with the quieter brothers. In the movie, they were back up dancers and filler. But at the same time, I was free to create them into whatever I wanted them to be. Big Ben became my quiet goalie. Caleb, the ax-ballet soloist in the movie, turned into a fighter pilot with a love for classic cars. Dan morphed into a geeky surgeon who always consulted his twenty-sided die, and Ethan became a soulful musician with inner demons to battle.
And thus, the Kelly Brothers were born.
What classic movie would you like to see updated as a contemporary romance? If you could've cast the seven Pontipee brothers in 21st century roles, what would you have them doing?
BREAKAWAY HEARTS
Can he melt her frozen heart?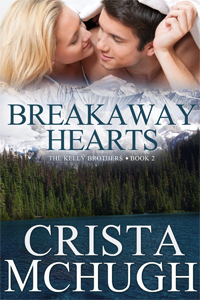 Hockey star Ben Kelly has retreated to his mountain cabin in the ski town of Cascade, BC, to recuperate from a season-ending knee injury and contemplate his future in the NHL. He never expects to run into the one woman who got away. Nine years may have passed, but nothing has dulled the explosive chemistry between them. Now he wants more than just one night.
Hailey Eriksson had Olympic-sized dreams until an accidental pregnancy from a one-night stand halted her ambitions. Her life was shattered when her son died. Nothing will keep her from fulfilling her promise to him to make the Olympic team, especially not the charming Ben Kelly. Unfortunately, he's out to sweep her off her feet this time, and she finds him harder and harder to resist with each passionate kiss. But when he learns about the child he never knew, will their rekindled romance be on thin ice?
Buy Links:
Amazon | Barnes and Noble | Kobo