Congratulations to "Anita", "Colleen" and "Ada", the winners in Jennifer's giveaway. Thank you to all who participated!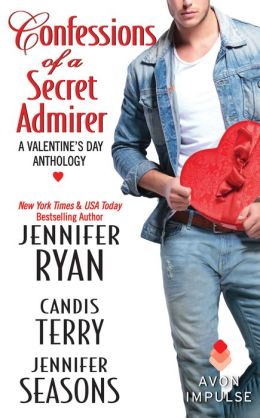 Confessions of a Secret Admirer, featuring NY Times and USA Today bestselling author
Jennifer Ryan's novella - Waiting for You
When my editor asked me to write a Valentine's novella, I jumped at the chance. Nothing goes together better than romance and Valentine's Day, except maybe diamonds and Valentine's Day. I wish. I'm married to one of those guys who thinks Valentine's is just a made up holiday to torture men. Now you know why I get my romance from the books I love.
Although my guy isn't the flowers and chocolates type, he does have other redeeming qualities that have kept us together for more than twenty years. Still, I confess, I would love it if my husband showed up with my favorite See's California Brittle chocolates and told me someone's watching the kids while we go out to dinner alone. Even better would be dinner in Hawaii for a week. Probably not going to happen all the way around. My husband's more likely to give me a smartass remark about Valentine's Day than roses. Still, I love the guy, because romance isn't about one day. It's about all the random days he does something sweet just to make me smile or laugh.
With three kids, a job, and deadlines looming for my upcoming books, what I really want for Valentine's Day is two hours of uninterrupted time to watch a movie alone with him. Sometimes it's the simple things that mean the most.
Rancher Grant Devane has waited for Taylor Larson's return to Fallbrook for more than ten years. Now that the fearless beauty has come home on her terms, he'll do anything and everything necessary to win back her heart.
Excerpt
"You're in love with her."
Grant didn't answer. He hadn't told her, he wasn't going to confess to Seth.
"You drove her away. Why?" Grant's continued silence didn't stop Seth from figuring it out. "It wasn't just that you thought she loved me. You pushed her away because you thought if you convinced her to stay with you, she'd leave you eventually, like Dad left. Mom loved this place like you did, but Dad wanted something different and better than how he'd grown up his whole life. You thought if you asked her to stay, eventually, she'd leave you for something better.
"Amy thinks you're some player, using women for days or a few weeks then dropping them without ever knowing anything more than their name and what they like for dinner."
"I don't really care what they want to eat," he admitted. Okay, so maybe he'd been a selfish bastard with women over the years.
"You didn't want any of them. Every one of them, nothing but a placeholder, because you want her," Seth spoke the unvarnished truth.
"Yes, damnit. I want her."
"What the hell are you waiting for? Go get her."
Grant leaned back against the stall door and let out a self-deprecating laugh. "You think it's that easy? You said it yourself, I hurt her."
"If you could hurt her, that means she cares."
It took her leaving more angry with him than she ever was with Seth for him to realize she cared for him deeply, and he'd screwed it all up.
"When the hell did you turn into some philosopher?"
"When I saw the way you looked at her the other day. It all clicked."
"Yeah, well now all she does is glare at me."
"You talked her into bed once before, do it again."
"What if I told you I want a hell of a lot more than her in my bed?"
"If I thought that's all you wanted, I'd be warning you not to mess with her again, instead of asking why you're still standing here."
Grant let out a frustrated laugh again and shook his head. "I'm regrouping. I blew it last night."
"Couldn't have been all that bad if you're riding home just after dawn."
"It's not what you think. I went over early this morning to leave her an apology gift."
"Are still circling each other."
Grant had to think about it. Yeah, for a moment last night he'd seen the way her eyes roamed over him, and she'd remembered being in his arms and wanted him again. If only she'd forget he hurt her. Not going to happen, and completely up to him to make her forgive, if not forget.
"Let's just say, I have my work cut out for me."
"Is it going to be weird for you and Amy if things between Taylor and I work out?"
"Not for me, man. I mean it. I hope you two are happy together."
To prove it, Seth put out his hand. Grant took it. "Who knows, maybe if you're sleeping with Taylor, my wife will finally believe I don't want to."
Grant laughed. "Anything I can do to help."
Buy Links:
About the Author
Jennifer Ryan, New York Times and USA Today bestselling author of The Hunted Series, writes romantic suspense and contemporary small-town romances.
Jennifer lives in the San Francisco Bay Area with her husband and three children. When she isn't writing a book, she's reading one. Her obsession with both is often revealed in the state of her home, and how late dinner is to the table. When she finally leaves those fictional worlds, you'll find her in the garden, playing in the dirt and daydreaming about people who live only in her head, until she puts them on paper.
Follow her on:
Giveaway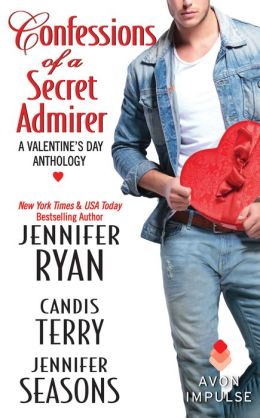 What do you want for Valentine's Day? Please share your comments with us and you'll be entered to win a free e-copy of Confessions of a Secret Admirer. Three winners will be chosen.
Giveaway ends 11:59pm EST Feb. 6th. Please supply your email in the post. You may use spaces or full text for security. (ex. jsmith at gmail dot com) If you do not wish to supply your email, or have trouble posting, please email maureen@JustContemporaryRomance.com with a subject title of JCR GIVEAWAY to be entered in the current giveaway.