Congratulations to "Karen J." the winner in Lynette's giveaway. Thank you to all who participated.
Sagging middle? Unfocused plot? Character discrepancies? My guess is that one thing's to blame for all of this—unclear character goals.
It's an author's job to find out what her hero and heroine most want—then to take it away from him or her. To make even the possibility of attaining it seem hopeless. Cruel, you say? Probably. But this is what makes for a great story.
Smooth sailing? Boring. It's when that unexpected storm develops on the horizon that things get exciting. We watch as it draws nearer and nearer still. As the squall grows into a tempest of gargantuan proportions. As the little dinghy we'd so optimistically set sail in dips and sways and begins taking on water.
An author has to take her characters, the people she's created and loves, and toss them straight into the teeth of that monstrous storm.
Every single one of us wants something so badly we'd do nearly anything to make it happen. It might be our family's safety or a New York Times bestseller or a house that's paid for. It might be Mr. Right. But whatever it is, it needs to be worth suffering and fighting for. An author needs to know what this is for her characters before beginning chapter one. Everything in the book is driven by this need. These characters' goals keep the story moving forward. They form the conflict and drive the plot. Without these needs, these goals, there simply is no tension and no story.
The goal needs to be concrete and specific. If we could sit down with our story's hero and ask him what he wants, what would he say? What one thing is more important to him than anything else? What is it he can't live without? Only when an author knows this can she begin crafting his story.
I write romance; I write relationship books. Happily-ever-afters. But that doesn't mean my characters have an easy time of it. I love to put them through the wringer, to squeeze out every drop of emotion. To make them laugh, cry, sigh. To make my readers laugh, cry, and sigh.
In order for that to happen, my character can't simply be handed what he so desperately wants. No way, no how. He has to work for it, sacrifice for it. The hero had better be prepared to walk those twenty miles in a snowstorm uphill both ways—without a hat or gloves—because it will take that and a lot more to reach his goal.
Scarlet O'Hara wanted to never be hungry again. Dorothy wanted to go home. So does the hero in my new release, Can't Stop Lovin' You, the third in my Maverick Junction series. Brawley Odell and Maggie Sullivan grew up sweethearts. Everyone assumed they'd marry. And then he left her with barely a backwards glance to become a veterinarian in Dallas. Unforgiveable. When he realizes his dream is actually in his small hometown of Maverick Junction with his friends and the woman he could never get out of his heart, he heads home. That hot-tempered, ambitious high school sweetheart? She's packing her bags to follow her own dream, to reach out for her own goal. In New York City. And that's only the beginning of their problems.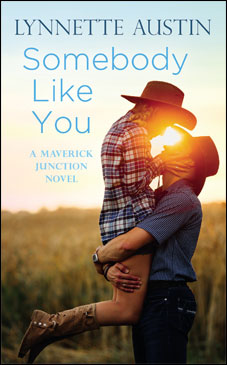 In Somebody Like You, the first of the Maverick Junction series, heiress Annelise Montjoy is desperate to find her long-lost aunt, a possible bone marrow donor for her grandfather. Along the way, she realizes she also needs to find herself. In the hubbub of daily life, under the constant eye of the ever-present paparazzi, she's totally lost sight of who she really is.
Although the character may not be clear from the beginning of the book what he or she wants, the author had better know. Without those clear goals, the story falters and runs aground.
What about your favorite character in that book you've read again and again? What was his goal? How hard did he have to fight to attain it? What did he have to go through to win his heart's desire? I'd love to hear from you!
You can find Somebody Like You at Amazon and Barnes & Noble, in digital and print versions.
How to get in touch:
www.authorlynnetteaustin.com
twitter@lynnettaustin
Facebook
www.Goodreads.com/author/LynnetteHallberg
Check out www.lynnettehallberg.com for my non-Maverick Junction books.
Giveaway:
Maggie Sullivan, the heroine in Can't Stop Lovin' You, runs Maggie's Boutique and is a dress designer. She loves fashion! And today she's giving away a Pandora-style bracelet to one lucky commenter on today's blog. So leave me a comment and good luck!
Giveaway ends 11:59pm EST Feb. 25th. Please supply your email in the post. You may use spaces or full text for security. (ex. jsmith at gmail dot com) If you do not wish to supply your email, or have trouble posting, please email maureen@JustContemporaryRomance.com with a subject title of JCR GIVEAWAY to be entered in the current giveaway. US postal addresses only.