GIVEAWAY Alert!
Though I have two series running at the moment (and another with only one book out so far), my Sugar Springs series was the first I ever started. And I actually started it with the thought that it would be three books, each one about one of the brothers. Though I'll admit that I didn't have a woman picked out for the third brother yet. (You'll meet Zack in Sweet Nothings. He's not the nicest person in the world upon first impressions. o_O)
However, since I've been writing for a while longer now, I've learned that my plans do not always go along with my characters' plans.
Yes, though currently this is still a three-book series, each one about one of the brothers, I have another character that came to life for me in Sweet Nothings. So much so, that I now desperately want to write his book. He's a good friend of Joanie's (my heroine of Sweet Nothings), and though he's quite the horn dog, he's such a total sweetheart. I can't wait until a woman comes along and twists him into a pretzel!
Then there's Holly from book one. You'll see her a bit in Sweet Nothings, as well, but she let me know within the first chapter of book one that she WOULD have her own book. I actually had to rewrite that chapter many, many times because Holly kept taking it over. But I knew in that first chapter that she would show up in a later book…in her own book!
But since I am the writer, and since I get the pleasure of torturing my characters if I want to, I told Holly that she could have her own book. Only, she had to have the "bad" brother.
The one who did not make a good first impression. And trust me, it's not a good impression! But Holly was more than happy to take up that challenge!! Thus…book three is now Holly's book. And she allowed the third brother to come along.
I find it really interesting to see what comes out as I'm writing. Some characters are very content to stick to the background and just be secondary. A lot of those types showed up during Sweet Nothings which I had no intention of being in the book. Some had been in book one, and some not. But they wanted to be in this book. And they simply wanted a bit part. So fine, I let them in. The more the merrier, I guess.
But for some characters…there's just no way sitting in the background will ever work for them. I even have a character that showed up in the first version of Sweet Nothings who wants to have her own book. Her whole storyline got taken out and you don't even meet her now, but she's still there in my head. She has a kid. She's related to someone in town. And she's patiently waiting her turn.
The funny thing about her is, I think she's the woman for my sweetheart horn dog who I mentioned above. She seems pretty right for him, kid and all. So yeah, I really can't wait to write that one!
And I won't even go into what happened in the second book of my Turtle Island series. A character there took over everything! And yeah, she'll be getting her own book, as well. Maybe two of them. *sigh*
Books in the Sugar Springs series are:
Book #3 – Sprinkles on Top (July 2014
Sweet Nothings
Sugar Springs #2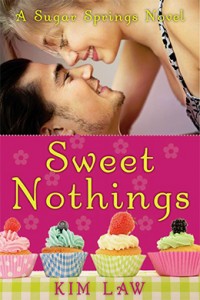 Releasing January 1st, 2014
Blurb
Joanie Bigbee, cupcake baker extraordinaire, likes to keep her options open--and she's good at it. She's started and sold some 30 businesses in her postage stamp-sized Tennessee town, and at the moment she can be found in a short skirt and go-go boots, selling cupcakes out of the back of a converted Volkswagen van. What she moves on to next is anybody's guess. She knows better than to be tied down. In any way. She's watched every woman in her family fall head-over-heels, only to find themselves wondering how to pick up the pieces when love is lost.
When Nick Dalton shows up at the groovy cupcakery, all Joanie wants is a taste; a fling with no strings suits her just fine. But for Nick, a bite is not enough; he wants the whole cake: a big house, a family, true love. But love only makes you stupid, right? Joanie has to decide whether to follow where her free-spirit leads? or hold on to the sweetest thing she's ever known.
Pre-Buy Links
Amazon:
B&N:
Sweet Nothings, book two in the SUGAR SPRINGS series, get it NOW with Kindle First!
What is Kindle First? That means that Amazon Prime members get to choose one of four editor picks (one month before release date) and get the book for free. Non-Prime members can choose one of the four books and pay only $1.99. This goes for the whole month of December, and then the books officially release on January 1.
Link to Follow Tour:
Author Info
Award-winning author Kim Law wrote her first story, "The Gigantic Talking Raisin," in elementary school. Although it was never published, it was enough to whet her appetite for a career in writing. First, however, she would try her hand at a few other passions: baton twirling, softball, and music, to name a few. Voted "Bookworm" and "Most Likely to Succeed" in high school, she went on to earn a college degree in mathematics.
Law spent years working as a computer programmer and raising her son, and she now devotes her time and energy to writing romance novels (none of which feature talking raisins).
She is a Romance Writers of America's RITA® finalist, a past winner of the RWA's Golden Heart® Award, and currently serves as president for her local RWA chapter. Her books can best be described as a light-hearted mix taking her readers on a sexy, fun, and emotional ride. A native of Kentucky, she now lives with her husband and an assortment of animals in her Middle Tennessee home.
Author Links
http://www.kimlaw.com/
https://www.facebook.com/kimlawauthor
https://twitter.com/kim_law/
https://www.goodreads.com/author/show/6473776.Kim_Law
Rafflecopter Giveaway (Grand prize will be a cupcake basket with: A jumbo cupcake pan, A cupcake recipe book, Jumbo cupcake liners, Cupcakes sprinkles, A cupcake decorating kit, Cupcake measuring cups, An autographed copy of Sweet Nothings, And a cupcake recipe unique to my book)
a Rafflecopter giveaway