Congratulations to "Jonetta" and "Julie O", the winners in Barbara's giveaway. Thank you to all who participated!
I don't know how it is for other writers, but it's difficult for me to come up with new and unique character names for my books. I've developed this…habit. I steal names. There. I admit it.
I used to work for the American Red Cross recruiting blood donors. I loved the job because pages and pages of names would pass before my eyes on a daily basis. I kept a tiny notebook beside me at all times, and when I read a name I liked, I'd write it down. (No other personal information, I swear. Just names.) This took place while I was an aspiring writer. Now that I've graduated to published author, my obsession with name theft has grown exponentially.
I take names wherever I can get them. Driving to Indiana this past summer, I saw a great name on the side of a building. I took it. Not the sign, mind you, just the name. And yes, it's now in one of my books. I have pilfered names from co-workers, students, friends and family. When I feel it's appropriate, I ask for permission. Lots of times though, the names just pop up in my stories and the pilferees are none the wiser.
In book #3 in the Perfect, Indiana series, A CHANGE OF HEART, which releases November 26th, our heroine's therapist at the VA center got her name from one of my coworkers. She granted her permission in exchange for a copy of the book. A bus driver in THE DIFFERENCE A DAY MAKES got her name from another coworker of mine, and the family who owns the butcher shop in Perfect got their name from a neighboring farm family from my youth. I did change their name slightly. Our neighbors were the Offermans, and I changed it to Offermeyer. Webers, Maurers and Hoffman also come from my Haubstadt, Indiana days.
I collect names like some people collect figurines or collectibles! Life as a writer gives rise to unique quirks, I guess. Or is it just me? Beware! I'm a name thief, and yours might be the next name I steal.
BLURB FOR A CHANGE OF HEART – Montlake Romance, November 26, 2013
Cory Marcel worked tirelessly over eight grueling years to develop a successful military career. After her commanding officer violently assaulted her, she lost everything—especially her ability to trust. Despite the emotional damage threatening to sink her, Cory agrees to accept a new job at a furniture manufacturing business in Perfect—a job that could offer the fragile brunette the chance to start over.
Ted Lovejoy cofounded Langford & Lovejoy Heritage Furniture, but lately he feels like an outsider in his own business. When he meets Cory, Ted realizes his company can do more than just build furniture—it can also help rebuild lives. He longs to help Cory recover from her pain, yet every time he gets too close to her heart, she pushes him away.
While Cory can't resist her attraction to Ted, she fears the demons haunting her will drag down both of them. Could this kind, soft-spoken man help her finally bury the past…and unlock a future full of hope and happiness?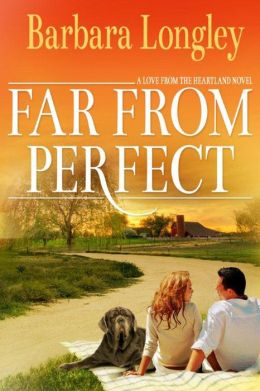 Available on Amazon, Barnes & Noble online and Powells. For excerpts and buy links, visit:
www.barbaralongley.com
Giveaway:
*Barbara will be giving away a signed ARC of book 1, FAR FROM PERFECT, and a signed ARC of book 2, THE DIFFERENCE A DAY MAKES to one lucky person leaving a comment or email entry.
Giveaway ends 11:59pm EST Nov. 27th. Please supply your email in the post. You may use spaces or full text for security. (ex. jsmith at gmail dot com) If you do not wish to supply your email, or have trouble posting, please email maureen@JustContemporaryRomance.com with a subject title of JCR GIVEAWAY to be entered in the current giveaway. US residents only.