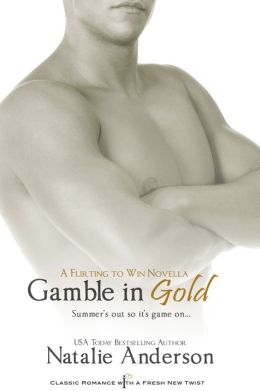 Thank you so much for having me here today to celebrate the release of GAMBLE IN GOLD – the third novella in my FLIRTING TO WIN series with Entangled Indulgence. I had so much fun writing this story—it is a flirty, hot'n'sweet story about a formerly shy gal and the guy she's been crushing on for-like-ever.
Luke is my favourite kind of hero—he's motivated, disciplined, noble in all the right ways, but also has a wicked sense of humor and more than a little of the naughty in him... while Lexie is sweet-but-determined to finally prove she's all grown up.
Here's a teaser for you to enjoy!
She lifted her face at the sound of the bathroom door opening.
Oh someone have mercy. He wore nothing but boxers. Blue cotton boxers that showed off his tanned, nothing-but-muscle legs. The big white bandage around his knee stood out, his discomfort obvious as he favored the stronger leg.
"Don't you wear anything else to bed?" She blurted the first coherent thought that sprang to mind.
"I don't usually wear anything at all." He shrugged. "But I thought it would be best under the circumstances."
"What about a T-shirt?" She couldn't look at his body for another second.
He paused halfway across the floor. "It's a hot night."
"Right." It certainly was. "Of course." She clutched the pillow closer to her chest. "I'm going to sleep on the sofa." She turned her head away from him so not even her peripheral vision could swamp her with a view of all his damn skin.
"No, I'll take the sofa," he said through gritted teeth.
"Not with that knee you won't," she snapped back at him.
Honestly, like she'd do that to him? But he frowned, clearly about to dig in. She lifted her chin and glared at him, holding his equally hard gaze. No longer so shy that she'd break away at any kind of eye contact. She was right about this and they both knew it.
Silence stretched between them. She could see the muscle work in his jaw and the annoyance flicker in his eyes. He wanted to resist? Well, he might be looking lean and mean, but he also looked in pain and she was winning this one. "The sofa might be big, but it's still not big enough for you," she said firmly. "You'd have to crunch up and you don't need that."
He drew in a deep breath and then sighed. The tension in his body eased and he took a couple of limping steps toward the bed. "Nice pajamas," he drawled.
Kitten-stamped pink flannel pj's covered her from her neck to just above her ankles. Darn things always shrank in the wash. But she could be a gracious winner and let him get away with the comment. She was determined to be unaffected by any flirt. "Thanks."
"You didn't need to change for me," he said, wincing as he took another slow step.
Oh, yes she did. And she shouldn't have taken so long in his room. "I was going to strip—" She coughed to clear the sudden itch in her throat and inwardly cursed the sudden rush of heat in her cheeks. "The bed."
Seven years have passed since shy Lexie Peterson had her heart trampled by her teenage crush. When she comes face to face with him in London, she vows to stay strong against his charms. But there's something about the man who has always made the impossible seem possible.
When Luke Marchetti walks into his flat to find Lexie in a negligee, all he can think of is having a little flirt and fling. But sweet, caring Lexie is all grown up now, and her determination to keep him at a distance makes him realize she deserves more than he can offer.
One kiss when they were younger ignited a passion that lasted seven long years. But is it enough to entice the two to take a gamble?
USA TODAY bestseller Natalie Anderson writes fun, frisky, feels-good contemporary romance for Entangled Publishing, Harlequin Mills & Boon and independently. With over twenty-five books published and over two million sold, she's been a Romantic Times Award nominee & a finalist for the R*BY (Romantic Book of the Year).
She lives in Christchurch, New Zealand with her husband and four children.