Congratulations to "Shelley", the winner of Becky's giveaway. Thank you to all who participated!
If you're a writer, you're also an observer of human behavior. And, if you write romance, your observations often find their way into your work. Or they should.
It's not just about overhearing snippets of conversation that begins an idea. It's all around you, every day, in everything you do. This is especially true of family behavior.
It doesn't matter if you're writing a lengthy series about a large family (such as Julia Quinn's Bridgerton series), or if your book is about just one person (Nora Robert's Whiskey Beach, for example), families can enrich a story line, create tension, bring out your character's softer side or make the reader hate your character. The interplay between the brothers and sisters in the Bridgerton household allow you to glimpse at each character's personality by the way they react to one another. And in Whiskey Beach, Eli's tenderness toward his grandmother shows that he is a very tender man. These glimpses into a character's personality are shown through their actions, which is a whole lot better than a recitation of their traits.
So, how do you weave in family dynamics into a story? Start with your own family.
It doesn't matter if you're an only child, come from a broken home, are an orphan, or grew up surrounded by siblings—your own life is rich with characters that you can pattern your made-up characters after. Do you have an eccentric aunt? Take some of her traits and incorporate them into an odd duck character in your next book. Did your mother try to act as matchmaker when you were younger? Good fodder for a romance. Are there any skeletons in your family closet? (Come on, everyone has at least one!) Use it in your story line, to make it richer and stronger.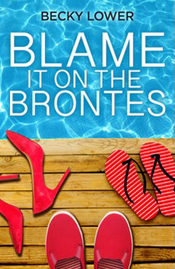 As for the men in your romances, inspiration can come from the males you grew up with. Even if you grew up not knowing much about your father, I bet you daydreamed about what your ideal father would be like. Now's your chance to create that man, in one of your books. Did your brother drive you nuts when you were kids, taunting you, daring you to keep up with him? There's nothing like a protective yet obnoxious brother to make a romance really sing. What about the brother-in-law who always has a beer in his hand? He'd be a great secondary character. Or maybe your cousins formed a country band and performed at county fairs when you were young and now are the stars at a Friday night karaoke bar. What a story idea!
As for sisters—don't get me started. I grew up with three of them. We went round and round when we were young. Still do, to a large extent. We are each so very different from the other one, our family joke is it's hard to imagine we all came from the same womb. It provides me with great lines of tension in some of my stories, but always underscored with love. The sisters in Blame It On The Brontes have been fighting for eighteen years, and their mother's final act makes them realize that family, and love, is the most important emotion of all.
I'm offering a free e-book copy of Blame It On The Brontes to one lucky commenter.
So you see, inspiration is all around you. Take a piece of Aunt Millie, add on a snippet of Mom, layer in a bit of the crotchety neighbor lady who lived next door and hated kids, and you've got the beginnings of a colorful and lively character.
Excerpt from Blame It On The Brontes
Anne Bronson pressed her foot on the gas pedal, trying to ignore the little red light on the dashboard—the one highlighting the E on her gas gauge. She willed the rental moving truck to make it up the next hill, hunching over the steering wheel to help with the climb. The truck leaned into the steepest part of the incline, its headlights illuminating the crest just as the engine began coughing and sputtering in earnest. No good gas-guzzling piece of crap. Anne directed the truck to the side of the road. There should have been plenty of fuel to get to the house.
If she hadn't already maxed out her credit card, she would have gladly paid professionals to move her from New York to Maine. But here she was, driving her own belongings north, and out of gas. Her stomach knotted even tighter. Is this the way a NASCAR driver feels when he runs out of gas on the final lap? Anne's race was bigger. She had an inheritance at stake. Eighteen minutes till midnight. Damn.
Hauling her purse behind her, she climbed out of the truck. She kicked a tire and let out a half-hearted scream at the damage her instinctive motion caused her black leather Manolo Blahniks. Tapping her fingernails against her teeth, she peered up and down the dark road. No headlights. No life. No sound.
She fished into her purse for her cell phone and stared at it. No signal either here in Backwater Maine, of course. With a deep sigh, she wrestled with her old suitcase with its wonky wheel and strapped her oversized purse across her body as she began to climb the rest of the way up the incline. Two miles to the house. She had eighteen minutes to get there. In six-inch heels. Gazing skyward, she muttered, "Hey, Mom, you up there? If you are, I need a little help right about now."
Headlights crested over the hill in front of her. Anne blew a kiss skyward. "Thanks, Mom. Always could count on you."
Award Winning Best Selling Author
Timeless Romance With Sass
Giveaway ends 11:59pm EST June 30th. Please supply your email in the post. You may use spaces or full text for security. (ex. jsmith at gmail dot com) If you do not wish to supply your email, or have trouble posting, please email maureen@JustContemporaryRomance.com with a subject title of JCR GIVEAWAY to be entered in the current giveaway.